Skip to Content
Booty Boost: Non-Surgical Butt Lift (BBL)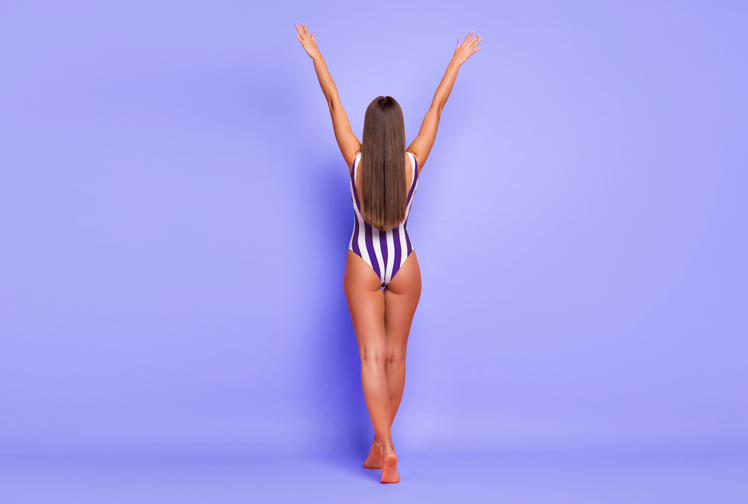 Does your booty need a boost? Does your tush need a tweak? Our faces get all the attention and care most of the year, but come summertime, your booty becomes front and center and wants its time to shine in the sun! With so many amazing products on the market we can help you achieve your #bootydreams at Epicentre. From blasting away cellulite with Endermologie, to increasing muscle tone with Evolve Tone, to skin tightening with Evolve Tite, and to shaping with Sculptra and Radiesse, we have something to address all of your concerns.
No surgery. Minimal discomfort. Minimal downtime. Long lasting results.
Blasting Cellulite with Endermologie
Endermologie Cellulite Reduction therapy is a unique, non-invasive treatment proven to dramatically reduce the appearance of cellulite, increase the tone and firmness of the skin, and re-contour the shape of the body. Through the combination of gentle, controlled suction and a soft rolling action, the patented mechanical LPG technology continuously folds and releases the skin which helps to break up clusters of cellulite within the underlying tissues. This procedure has been approved by the FDA and has been used safely and effectively for more than a decade. You will see a dramatic improvement in the look and feel of your skin, and may also experience a loss of inches in the treated area, allowing clothes to look and fit better.
Toning Muscles with Evolve Tone
Evolve Tone delivers the impact of 2,000 squats in a row, or 200 squats per day for 365 days, in a single 30-minute session. EvolveTone works by sending electrical pulses into selected muscle groups. Each pulse stimulates the motor neurons that cause your muscles to contract. Your body, not recognizing the difference between a natural stimulant and an outside force, responds to strengthen the muscle. This synergy of stimulation and response defines your muscles, creating a more sculpted appearance. Our patients are thrilled with what can be achieved with this device, in just a few short sessions – no workout required.
Skin Tightening with Evolve Tite
Evolve Tite is an innovative non-invasive skin remodeling procedure that tightens loose skin to create a more youthful look. Evolve Tite can reduce the unsightly appearance of imperfections such as sagging skin and cellulite to improve your overall shape. The benefit is that Evolve Tite is a non-surgical procedure meaning there are no needles or scalpels or a long recovery time. Treatments are customized to your individual concerns and can address a single area, or multiple zones, depending on your skin tightening goals.
Shaping with Sculptra and Radiesse
Sculptra, also known as poly-L-lactic acid is a great alternative to surgical buttock augmentation. This product stimulates your own body's collagen synthesis for a smoother, plumper result and can be customized to address cellulite dimpling, address hip dips and optimize shape. Results happen gradually after injections, over the course of weeks to months.
Radiesse is a calcium-based filler that helps add volume to the treatment area as well as helps promote the production of collagen in the area of injection. What this means is that you will see instant results AND it builds collagen over time to help plump and build more volume in the buttock area. Not only does it help add volume and a more plump look, but it also helps with dimpling and cellulite.
How to Get the Best Non-Surgical Butt Lift Results
If you want to get the best non-surgical butt lift results, you need to schedule a treatment with the most reputable medical spa. At EpiCentre Skin Care & Laser Center, we have skilled treatment specialists who can help each patient achieve optimal results and an undeniably rounder, lifted butt. Winter is when summer bodies are made, so contact us to find out how to get your dream booty.