Skip to Content
The Facial for Your Scalp: Get Healthier Hair with HydraFacial Keravive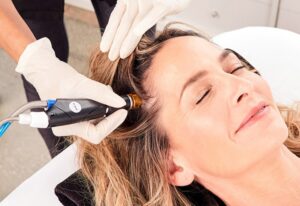 There are several factors which will contribute to problems concerning the scalp: stress, genetics, hormones, and over-processed hair are among the many. And while you may think your strands are dead, the follicle itself is alive and trying its best to work through the buildup and stress from over-processed hair. The key to having healthy hair from root to tip starts right at the root, and as soon as you have your scalp in check, your hair can start to benefit. If you are looking to revive your hair and scalp, a HydraFacial Keravive scalp treatment may be your ticket to the healthiest looking hair you have ever had.
Hydrafacial Keravive Scalp Treatment
Inspired by the popular HydraFacial treatment for your face, the HydraFacial Keravive treatment takes the technology applied to giving your skin that healthy glow we all dream of and brings it right up to your scalp. This innovative treatment cleanses, hydrates, nourishes, and stimulates the scalp, and the results will have you taking a double look in the mirror to ensure that it's really your fuller, healthier hair you're looking at.
What Are the Steps of the Hydrafacial Keravive Scalp Treatment?
The three steps of the HydraFacial Keravive scalp treatment create a combination treatment designed to optimize scalp circulation and healthy skin:
Step 1: Cleanse & Exfoliate
We begin by using the Hydrafacial vortex technology to extract dirt, as well as oil and other impurities, to clean the scalp and hair follicles while stimulating scalp circulation. This process is both painless and invigorating, and you can even see what's being extracted from your scalp. So, if you're someone who is fascinated with those pimple-popping videos we see on social media, then you'll love seeing the all the gunk that comes out of your scalp.
Step 2: Stimulate & Nourish
The in-office treatment continues with the Hydrafacial Keravive peptide complex, which contains a proprietary blend of growth factors and skin proteins that hydrates hair follicles and improves the appearance and health of a dry scalp. When the HydraFacial Keravive treatment is done, you can go about your day as normal, letting the products fully absorb and do their jobs.
Step 3: Extend & Enhance
Once you get home don't hop in the shower immediately. In fact, it's best to let the products stay on as long as possible. Once you finally start back up with your usual daily hair care routine, you'll use the HydraFacial Keravive Peptide Complex Spray for daily stimulation for 3-4 weeks to enhance the success of the Hydrafacial scalp treatment.
In order to transform dry skin, poor scalp circulation, or less-than healthy hair, the Hydrafacial Keravive 3-step treatment should be repeated once a month for 3 consecutive months combined with daily use of the take-home spray. From there, you can follow up with treatments as needed and work with your aesthetician to determine the best timeline that works for your scalp concerns.
Take the Next Step
Interested in trying out the Hydrafacial Keravive for yourself? Get in touch with our friendly team at 214-887-1577. We look forward to helping you see incredible aesthetic improvements at our Dallas location.