Skip to Content

Ushering in a New Era in Skin Care With eraclea® in Dallas, TX
Visit EpiCentre Skin Care & Laser Center for eraclea® Products
Welcome to a new era in skincare, an era in which medical research is applied to the science of improving your skin health. Proper skincare begins with adequate hydration. Long-lasting hydration is necessary for healthy, younger-looking skin. Eraclea® skincare products are formulated to provide this benefit. All eraclea® formulations contain a new, proprietary ingredient that has been scientifically designed to maintain the hydration necessary to retain a youthful skin appearance. Thanks to a half-century of research, eraclea® has perfected the art of hydration using a combination of hyaluronic acid sponges and hyaluronic acids of various molecular weights in the HylaSponge®System. Each eraclea® product features the HylaSponge®System as well as antioxidants, vitamins, peptides, and botanicals, all specifically chosen for their functionality within the formulations. EpiCentre Skin Care & Laser Center carries eraclea® skincare products in our Dallas, TX facility. Reach out to us today to schedule a complimentary consultation with our skincare specialists to learn more about the HylaSponge®System!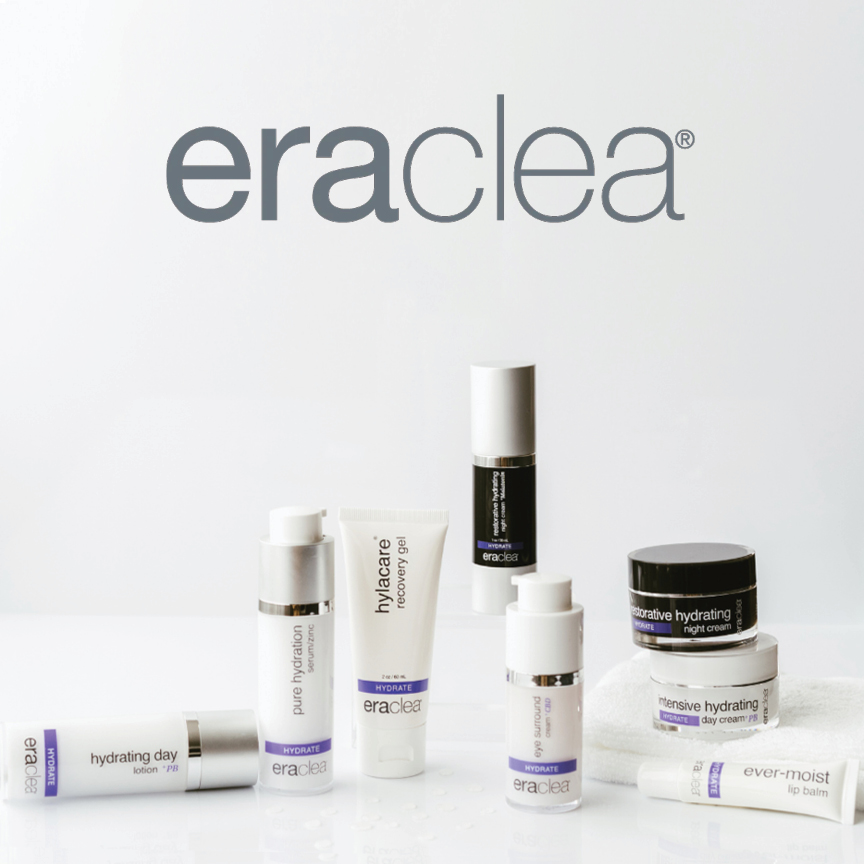 What Common Skin Conditions Does eraclea® Treat?
Eraclea® has set the bar high in the skincare industry, offering a luxurious line of products designed to rejuvenate and nourish the skin. Eraclea® products are ideal for all skin types and also come with a 100% satisfaction guarantee from the manufacturer. The HylaFusion® line protects the skin from dehydration and the visible signs of aging with long-lasting hydration. Choose from hydrating day lotion or restorative hydrating night cream. Ever-moist lip balm will keep your lips replenished, while eraclea®'s eye surround cream is perfect for targeting the delicate skin under your eyes. Remove dead skin with a daily bamboo exfoliant and purifying cream cleanser for dry or oily skin. If you desire firmer, smoother skin, try one of eraclea®'s calming facial mists, reconstructing creams, a multi-action reaffirming face serum, neck, and chest anti-gravity cream, body sculpting cream, advanced skin brightening cream, or retinal age reversal complex. If adult acne is a concern, try eraclea®'s acne clearing treatment, acne defense day/night lotion, or the acne-prone skin basic skincare starter set. Be sure to ask about eraclea®'s skincare sets packed with essentials to keep your skin looking and feeling great!
Why Choose EpiCentre Skin Care & Laser Center?
EpiCentre Skin Care & Laser Center provides safe, effective, and medically approved skincare from medical professionals. Our med-spa in Dallas, TX employs registered nurses, nurse practitioners, doctors, and licensed medical aestheticians to administer treatments. The world-renowned plastic surgeons at the Dallas Plastic Surgery Institute direct our facility to ensure the highest standards of professionalism and patient safety. You can expect to receive personalized care and product recommendations that have been screened and tested by our physicians. A rejuvenating experience awaits you at our unique med-spa.
Learn More About eraclea® Skin Care Products in Dallas, TX
Would you like to learn more about how eraclea® skincare products can keep your skin hydrated for life? Contact EpiCentre Skin Care & Laser Center to schedule a complimentary consultation in Dallas, TX. Say goodbye to wrinkles, fine lines, and grooves, and hello to younger-looking, smoother skin!
The eraclea® line of products is available at EpiCentre Skin Care & Laser Center Dallas, TX  75231.
Be the Most Beautiful You
Schedule a Consultation Today