Skip to Content
SkinCeuticals: Advanced Skin Care Products in Dallas, TX
Browse Products at EpiCentre Skin Care & Laser Center
EpiCentre Skin Care & Laser Center features innovative skincare solutions from many leading manufacturers, including SkinCeuticals, in Dallas, TX. Their mission aligns closely with ours: to improve your skin health with advanced skincare products backed by science and proven results. Born from several decades' worth of skin cancer research, SkinCeuticals has made pivotal breakthroughs in developing high-potency formulas using antioxidants and pure actives proven to penetrate the skin safely and effectively. Made in the USA, SkinCeuticals products are trusted by dermatologists, plastic surgeons, and med-spas for daily care at home and to complement many aesthetic procedures. If you're interested in learning more about the benefits of SkinCeuticals, we urge you to contact us and schedule a complimentary consultation with our experienced skincare experts!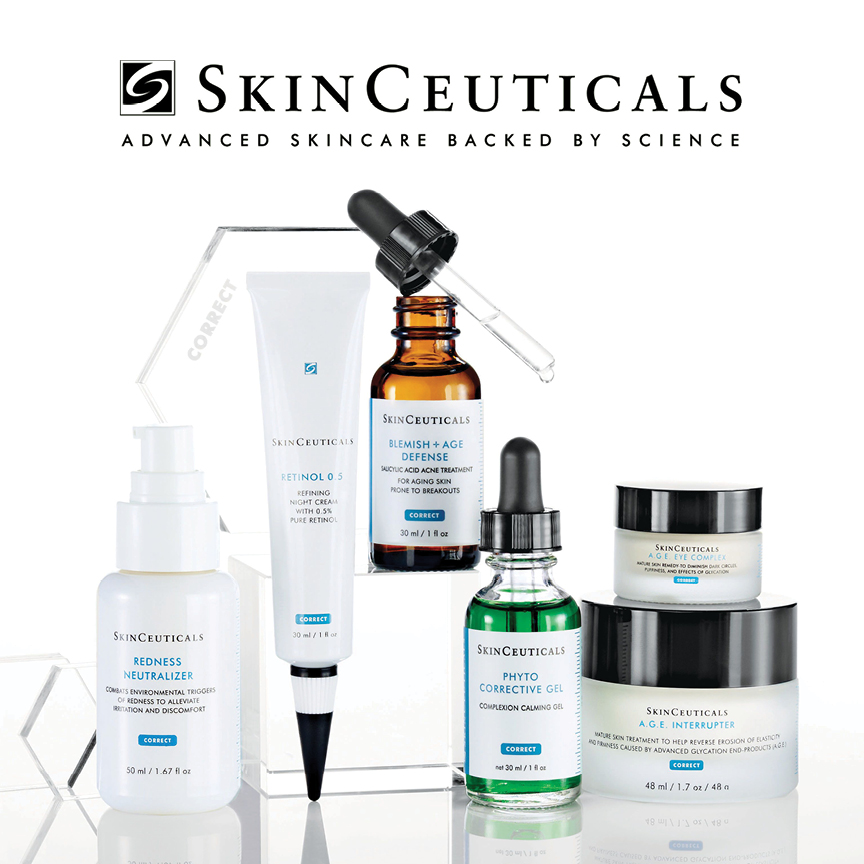 The Perfect Blend of Natural Botanical Extracts and Science
Featuring highly-effective formulations, SkinCeuticals combines the best of what science and nature both have to offer for your skin. Founded in 1997, SkinCeuticals is a skin care line dedicated to the continuous research and development of innovative dermatology products. Utilizing clinical research, consumer education, and multifunctional products, SkinCeuticals aims to improve your overall skin health. Designed to combat the effects of aging, SkinCeuticals products combine natural botanical extracts and scientifically-advanced skin care. Their topical vitamin C products, super antioxidant treatments, moisturizers, broad-spectrum sunscreens, and alpha-hydroxy acids use pure bio-available ingredients to improve the condition of aging skin. SkinCeuticals products are only available through authorized dealers, including EpiCentre Skin Care & Laser Center in Dallas, TX.
What Common Skin Conditions Can Be Treated With SkinCeuticals?
The scientists at SkinCeuticals have formulated products to correct the signs of aging, protect healthy skin, and prevent future damage caused by environmental factors. No matter your age or skin type, we have a product designed specifically to address your skin care concern. SkinCeuticals specializes in advanced skin care products for sensitive skin, as well as products designed to tackle many common skin conditions, including adult acne, fine lines and wrinkles, dehydrated skin, skin discolorations or redness-prone skin, and eye bags or dark circles under the eyes. Some of their best-selling products include:
Hydrating Gels
Gentle Cleansers
Retexturing Activators
Equalizing Toners
Antioxidant Lip Repairs
Redness Neutralizers
Advanced Pigment Correctors
Face Creams
Eye Balms
Hyaluronic Acid Intensifiers
Daily Moisture Creams
Retinol Creams
Facial Masks
Facial Exfoliators
Vitamin C Serums
Antioxidant Serums
Hyaluronic Acid Serums
Contact Our Skin Care Specialists in Dallas, TX Today
Whether you have dry, oily, combination, or sensitive skin, SkinCeuticals offers an innovative solution to meet your needs. Prevent, correct, and protect is the motto behind these advanced skincare products. As a world-class facility and patient advocate for safety, EpiCentre Skin Care & Laser Center screens and tests all products endorsed by our physicians. When you schedule a consultation with our skincare specialists, you get the satisfaction of receiving one-on-one care from a well-qualified staff in a warm, welcoming atmosphere. Open Monday through Friday, you'll find us conveniently located on the North Central Expressway in the heart of Dallas, TX. Contact us today to schedule an appointment or to learn more about our extensive line of skincare products from SkinCeuticals. Upload our patient forms prior to your consultation to facilitate the process.
Available at EpiCentre Skin Care & Laser Center Dallas, TX 75231
Be the Most Beautiful You
Schedule a Consultation Today