Skip to Content
Revance RHA Collection of Fillers
RHA 2, RHA 3, & RHA 4 are Now Offered at EpiCentre
Now available at EpiCentre Skin Care and Laser Center, the RHA Collection of dermal fillers is the most advanced hyaluronic acid (HA) treatment available. The unique formula provides our patients with more natural looking results that are guaranteed to last.
Natural Looking Results
The RHA – Resilient Hyaluronic Acid – Collection is the first hyaluronic acid filler formulated to treat dynamic lines while also allowing the injectable gel to easily move with your facial muscles. Previous solutions to alleviating expression lines and wrinkles completely immobilize these muscles. This causes patients to appear expressionless, and unable to emote through facial cues. These results might appear unnatural and discouraging to some patients.
The RHA Collection is designed to adapt to the dynamic movements of your facial muscles without limiting their mobility. This produces a more natural-looking outcome while also reducing the appearance of dynamic facial wrinkles.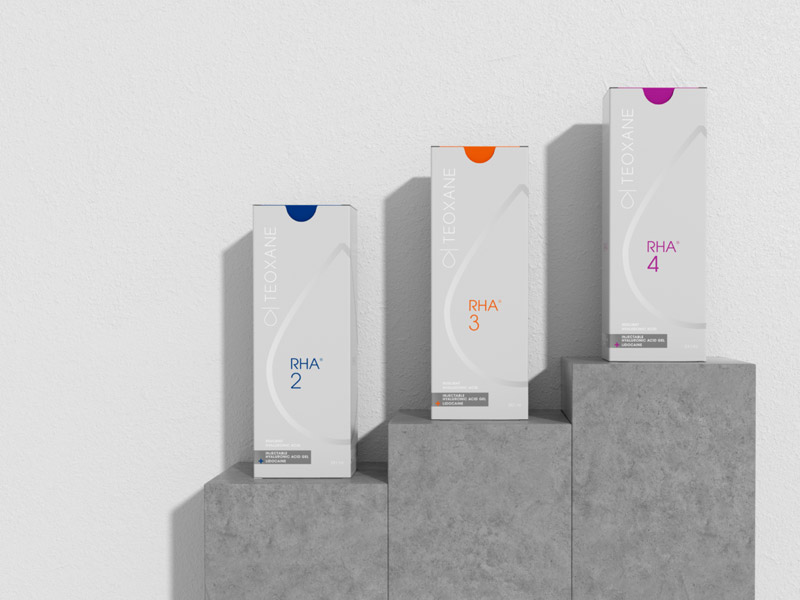 What Are RHA Fillers Used For?
The RHA Collection is the first and only FDA-approved hyaluronic acid fillers for dynamic wrinkles and folds and includes three approved formulas: RHA 2, RHA 3, and RHA 4.
Products in the RHA Collection are:
RHA 2 is ideal for superficial smoothing, radial cheek lines, perioral lines, and lip augmentation
RHA 3 is appropriate for corners of the mouth, moderate nasolabial folds, and the commissures
RHA 4 is best for deeper lines and folds, nasolabial and lower face, and the jawline
Who Is a Candidate for RHA Fillers?
Anyone who wants to add volume, fill in lines, or smooth the contours to their face is a candidate for RHA Fillers.
How Long Do RHA Fillers Last?
Unlike other fillers, RHA lasts for approximately 9 to 18 months. Results will depend on the age, lifestyle, and area treated.
RHA Fillers with EpiCentre
If you are looking to improve the appearance of dynamic lines with more natural-looking results, the RHA Collection may be perfect for you. Get long-lasting results that won't leave areas of your face immobile with this collection of hyaluronic acid dermal fillers. Your facial rejuvenation needs are as unique as you are. Schedule a complimentary consultation with EpiCentre to learn more about the RHA Filler treatment.
Be the Most Beautiful You
Schedule a Consultation Today