Skip to Content

Summer is right around the corner, and it'll be time to break out the bikini before you know it! But is your body ready? Are you prepared to show off your figure? You may be struggling with the appearance of cellulite on your body. Cellulite can be damaging to your confidence and keep you from feeling your best in shorts or a swimsuit.
Although it is a naturally occurring condition, in a recent poll conducted by Endo Pharmaceuticals, 49% of women said they felt frustrated, self-conscious, and embarrassed about their cellulite. The good news is that cellulite does not have to be permanent. At EpiCenter Skin Care & Laser Center in Dallas, Texas, we understand the loss of confidence associated with cellulite can be damaging, and our expert injectors are here to help.
Introducing the world's first FDA-approved injectable for combating moderate to severe cellulite on the buttocks of adult women. QWO—the first injectable of its kind, and we are thrilled to offer this cutting-edge treatment to our patients!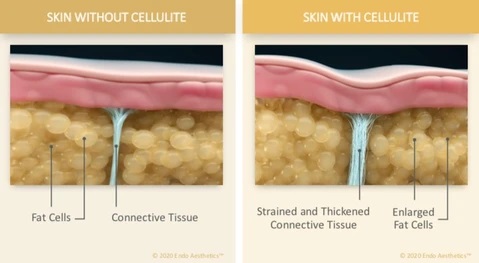 How does QWO work?
The primary contributing factor to cellulite is the fibrous connective tissue called the fibrous septae. These fibrous septae tether the skin and draw it downward which may cause tension in the dermis. When the skin thins and the fat cells get larger, the fibrous septae thicken, pushing against the skin and creating dimples.
QWO (collagenase clostridium histolyticum-aaes) works by combining two collagen-targeting enzymes—called collagenases—that occur naturally in the human body. When injected, these enzymes break down the buildup of collagen in the fibrous septae that lead to cellulite formation.
What are the benefits of QWO?
• Helps remove cellulite from the buttocks and thighs
• Helps even out the skin texture
• Trims, tones, and contours the lower body
• Creates a more youthful physique
• Boosts self-confidence
• Safe, non-invasive and non-surgical
• See results quickly, within a matter of weeks
• Results are long-lasting
• Treatment can be repeated for comprehensive improvement
What Can I Expect During Treatment?
During the consultation, our expert nurse injector examines your skin, determines if you have moderate to severe cellulite, discusses your cosmetic goals, and curates the ideal treatment plan. The QWO treatment must be finely-calibrated to address your specific concerns and cellulite presence.
After the examination, we will mark the treatment areas with a pen and then inject QWO into the targeted regions. The treatment is quick, simple, and painless, and there's no need for anesthesia. Since your buttocks have more fat than your face, the injection will hurt a lot less than Botox or most other injectables.
What is Recovery After QWO Like?
QWO is a quick and painless 30 minute procedure with no downtime. You can resume all of your daily activities immediately after the injections. You should expect bruising for at least two weeks—the severity of the bruising depending on the number of dimples injected. If you experience any soreness, you should avoid vigorous activities for a day or two. For optimal long-term results, you will need to repeat the injections approximately 3 times, each treatment session being done at 21 day intervals.
We Can Design The Treatment Plan Right For You!
At EpiCentre Skin Care and Laser Center, our patient's confidence in their skin is always our number one priority. If you are struggling with embarrassment or loss of confidence because of your cellulite, give our office a call at 214-887-1577 to learn more about how QWO can help you or schedule a free consultation.